Maintenance
The ORB-X1 has been designed to require a minimum of maintenance. The only serviceable item is the internal LiPo backup battery.
Replacing the LiPo Battery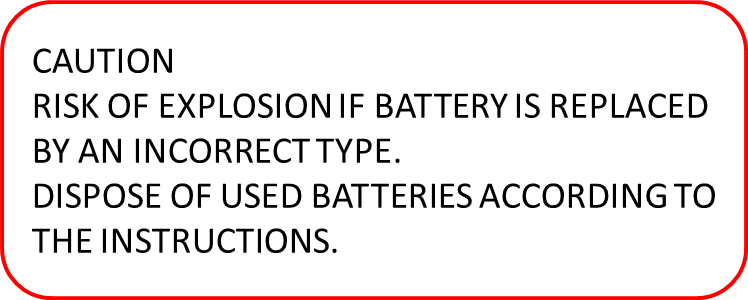 It is expected that the LiPo battery will have an in service life of 5 years. Factors that will reduce the life are:
Exposure to temperatures above 55°C or below -10°C.

Unusually high number of charge / discharge cycles.

Being left in a discharged state for an extended period of time.
Replacement of the LiPo battery should only be performed by suitability trained service personnel. Only LiPo batteries supplied by Senquip should be used. Senquip LiPo batteries contain temperature sensing and protection circuitry to ensure safe operation of the ORB.
Note
Use of 3rd party batteries may cause damage to the unit and will void the warranty.
The LiPo battery is located under the battery holder plastics inside the ORB. To replace the LiPo battery, the following steps need to be completed:
Un-fasten the 6 hex-head screws securing the cover using a 4mm hex bit. The screws are captive and will not fall out when loose. Do not attempt to remove the screws from the lid.

Open the hinged lid by lifting the bottom of the lid toward yourself and up. When the lid is opened, an internal light detector will recognise the increase in brightness and will enable the LEDs and configuration switches.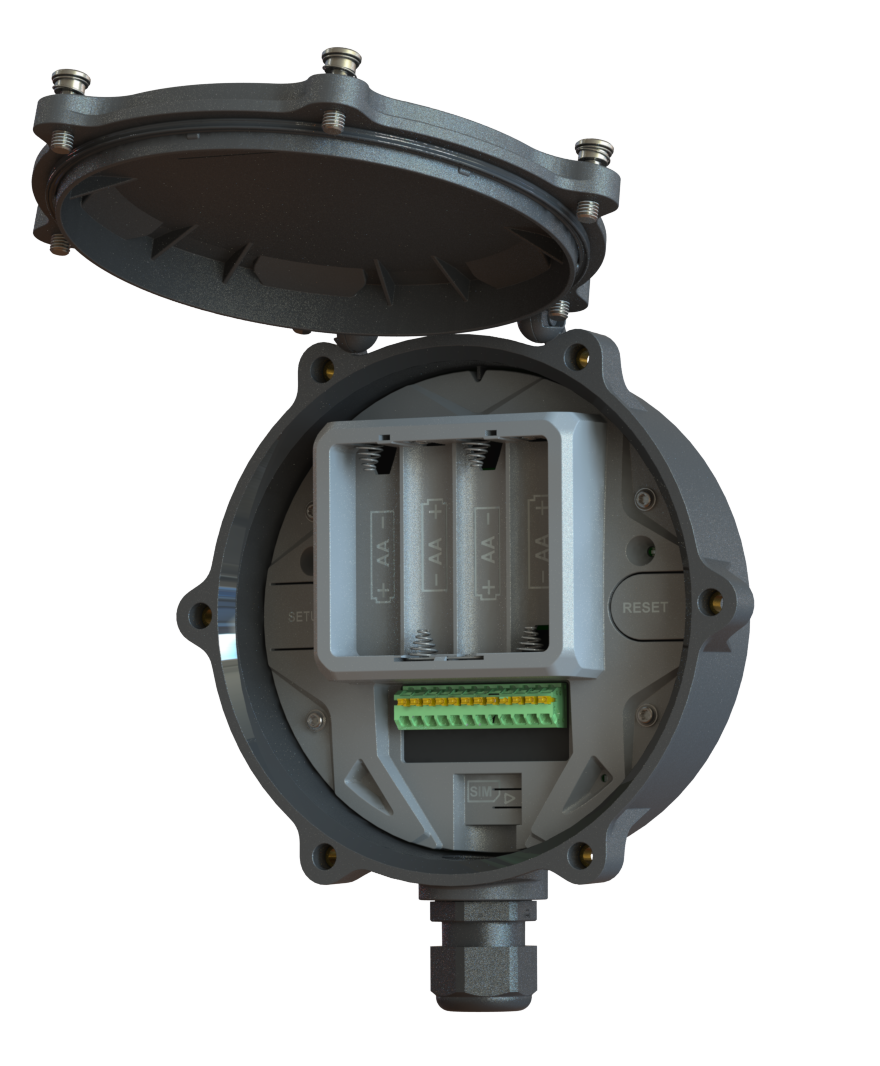 Remove the 4 AA batteries and if permanently powered, make sure that power to the ORB is switched off.

Disconnect all wiring from the header.

Remove the SIM card.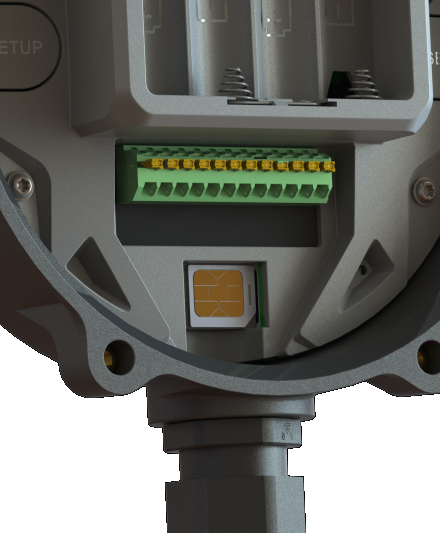 Warning
Failure to remove the SIM card before trying to remove the battery cover could cause mechanical damage to the SIM card holder.
Remove the battery cover by removing the 4 Torx-head screws using aTorx T10 driver. holding screws as shown in the diagram below. Note that by removing the battery cover, sensitive electronics may be exposed. The AA battery terminals extend through the battery cover; care should be taken not to damage the terminals when removing the cover.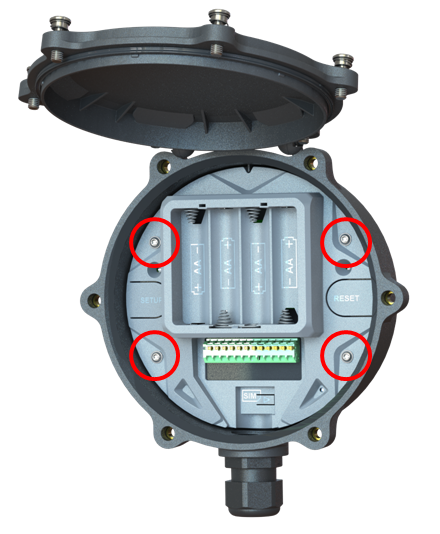 Warning
Make sure that you do not expose the circuit board or components to static electricity.
The LiPo battery is plugged into a polarised 3 pin JST connector. Gently remove the battery plug by pulling on the 3 wires, ensuring that the direction of pull is in-line with the connector.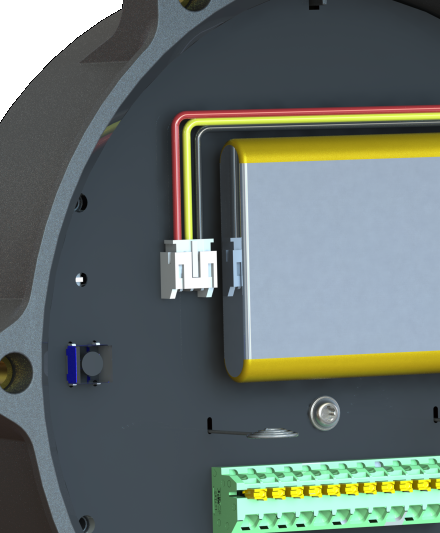 Note carefully the polarisation of the 3-way battery plug and be sure to insert the replacement battery with the same polarity.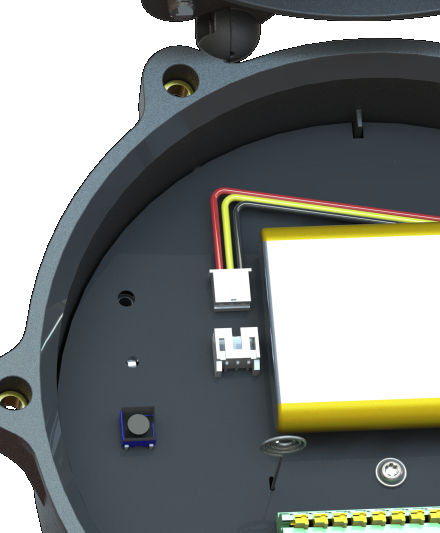 The LiPo battery is secured to the PCB with removable 3M double sided tape. To remove the battery, pull gently, ensuring that you do not damage the battery.

Remove the old tape; new batteries supplied by Senquip will ship with replacement double sided tape.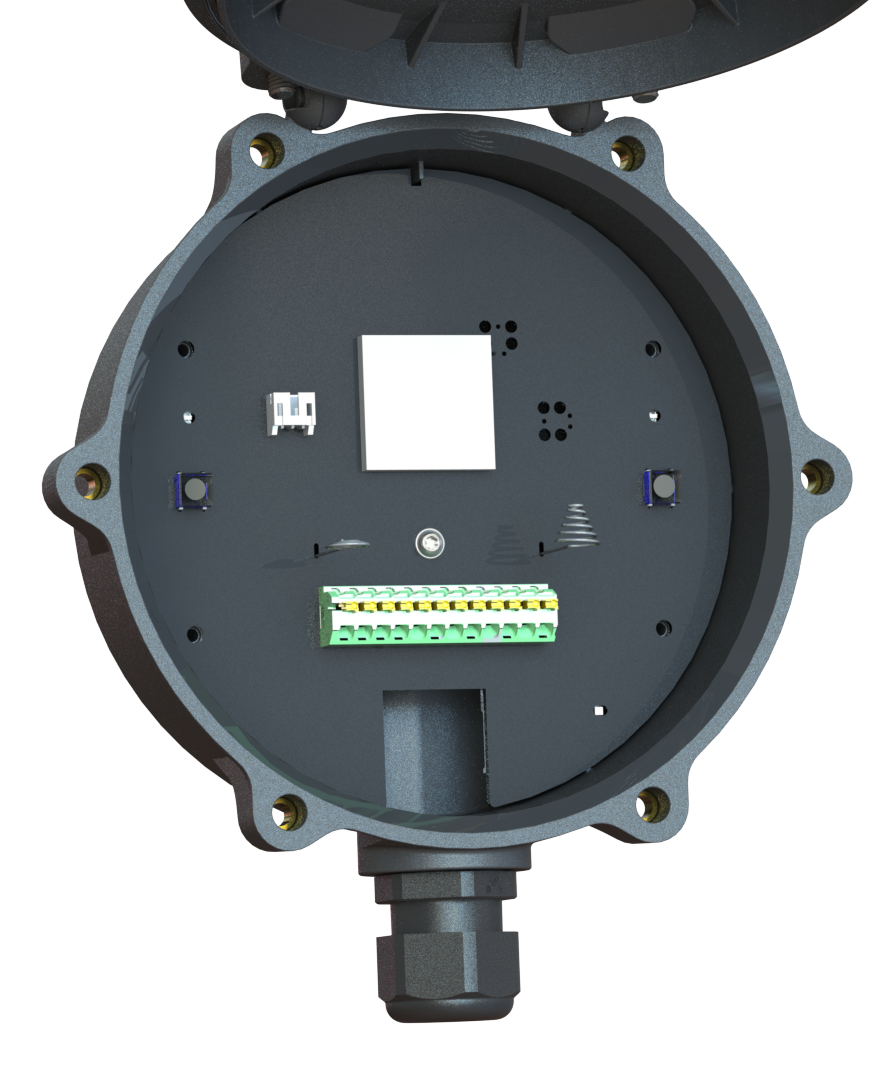 Note
Used LiPo batteries can be dangerous and are harmful to the environment and should only be disposed of using an authorised disposal service.
Reverse the above procedure to re-assemble the ORB.

Press the Reset button to restart the ORB.